Research & Vita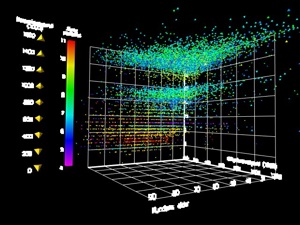 My research
★ I work mainly on mathematical statistics with the following points of interest.
• high dimensional data and complexity
• asymptotic statistics
• inverse problems.
• warping for image analysis or functional data.
At the moment, I work on high-dimensional data with applications to covariance estimation and warping issues.
Research Projects
• 2004-2008 : National Director of ACI MIST-R (Modélisation Informatique et Statistique du Trafic Routier) including laboratories of Orsay in mathematics, Orsay in informatics, Institut de Mathématiques de Toulouse, Institut de mathématiques et modélisation de Montpellier and GRETIA (INRETS)
• 2010-2013 : Member of ANR DEMOS
• 2013-2014 : Research Industrial Projet Big Data Analysis with TOTAL (with L. Risser and P. Besse)
• 2013-2017 : Research Industrial Project with Vaiomer & Servier (with J-M. Azais and A-C. Brunet) on covariance estimation in high dimensional gene models
Past Research Affiliations
• 2004-2008 : PASCAL network of excellence
• 2004-2007 : INRIA Select Research Team (Orsay)
Curriculum
1995-1999: ENS Cachan (Master in Mathematics at University Paris VII)
1998: Agrégation of Mathematics
1998-2001: Phd of Applied Mathematics at University Toulouse 3 (Phd under direction of S. van de Geer)
2002-2005: Researcher of Mathematics at CNRS, University Orsay
2005-2007: Researcher of Mathematics at CNRS, University Montpellier 2
2006: Habilitation à Diriger des Recherches (University Montpellier)
2007-          : Professor of Statistics at University Toulouse 3.
2008-2012: Titulaire de la PEDR
2013-2017: TItulaitre de la PES.