Geometric Statistics
IMT, Toulouse
August 30-September 5 2019
Mini-courses:
Research talks:
Thomas Hotz (Ilmenau University of Technology)

Stephan Huckemann (Georg-August-Universität Göttingen)

Huiling Le (University of Nottingham)

Alice Le Brigant (Ecole Nationale de l'Aviation Civile)

Nina Miolane (Stanford University)

Alfred Kume (University of Kent)

Venue:
The workshop will take place at the Toulouse Mathematics Institute (IMT), building 1R3, amphitheatre Laurent Schwartz. See Practical information (link below) to get to IMT. The building 1R3 is denoted by the number 23 on the map of the campus, as shown on the zoom below.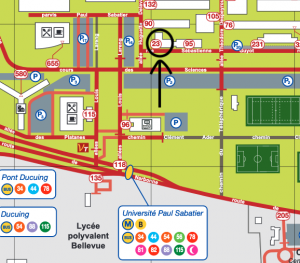 Links
Registration is free however mandatory. Register here
Students may apply for funding to cover accomodation expenses. As this funding is limited, to apply please send a letter from your advisor before June 10th to 
Xavier Pennec <xavier.pennec@inria.fr > and/or


Alice Le Brigant <alice.le-brigant@enac.fr>
Local Organisers:

Scientific Committee :